THE AMEN INSTITUTE 
February 27th – February 5th  2021
כ"ו-ב' אדר ב' תשפ״ב
Parshat Pekudei פּקודי
The Records of the Tabernacle and Faces of Time
Piece Description:

My works are called soul-selfies, documenting historical and spiritual experiences that affect the human spirit and soul. The assemblage, The Records of the Tabernacle and Faces of Time was inspired through deep introspection in studying the Parashat Pekudei, with Rabbi Eryn London. Pekudei, the last chapter in Exodus, describes explicitly the architecture and its space, materials, money, tasks assigned by Moses and the work by the Levites—all that was necessary to build a Tabernacle and a home for G-d. Moses was given instructions to build a Mishkan; however, Moses knew he could not do this alone.

Faces of Time honors those souls who built the Tabernacle and takes a deeper dive into what it means to be a Tabernacle. This work calls in question, do we need an architectural structure to go to, or, for us to look inward into our bodies as that architectural space that fulfills G-d's will and make this world a home— being that Mishkan wherever we go. 

Discussion Questions:
1. The section that inspired this piece exhausts in detail descriptions replete with color and extravagance. Tina Marcus, however, subverts the expectation of vibrancy with an earthy and muted color composition. What do you think motivated this decision? What associations does this bring out in you?

2. Tina Marcus describes having sculpted many more busts before arriving at the ones she chose. What qualities do you think she was looking for? She also shares the experience of seeing completely different sculptures depending on the angle that the picture was taken and based on how the light bounced off of the figures. How does the multiplicity of images relate to the text of the torah portion behind it?

3. Tina Marcus coined the phrase "Soul-Selfies" to describe the characters she depicts. What differences do you see between the different figures? How does the lack of uniformity address the construction of the Mishkan? Why do you think the different figures are placed at different heights?

4. If "Faces" are so central to this piece as alluded to in the title, "Faces of Time", why are the features of the five central figures obscured? They are depicted minimalistically nearly to the point of anonymity. Can you identify with one of the figures in particular? What is their story and how did they get here?
Artist Bio:
 
Tina Marcus' works are called soul-selfies. Whereas most people today are taking pictures of themselves with their phones, she is painting snapshots of personal defining moments. Tina's mixed-media assemblages are her selfies— focusing on the human figure documenting historical and spiritual experiences exploring conditions and circumstances with themes revolving around solitude, aging, ambiguity and the human spirit.

To see more art by Tina Marcus: https://www.tinamarcus.com/

Artist-Rabbi Chevrutah Pair:
Eryn London 
London, England
 

Rabbi Bio:  

Rabbi Eryn London, BCC, is a freelance rabbi, chaplain, and Jewish educator living in London. Following ordination, she trained and worked as a multi-faith and Jewish hospital chaplain in New York City. She is the program manager for the Honeycomb Project, a community volunteer training program, and is involved with a number of other projects within the UK and the global Jewish community.

Sermon of Rabbi: 

Building the Mishkan – A Time to Come Together

As we reach the end of the book of Shmot (Exodus) we hear the details of the building of the Mishkan -The House of Meeting that will continue to travel with the Children of Israel throughout their time in the desert and will eventually during the period of the building the Beit HaMikdash, decades later. The Torah goes into intricate details of what was used to construct this  space; of the amount of money spent; of the colors; of the materials; of what the space would look, sound and smell.  The space that would be in the centre for all to see, hear, smell and experience. It is a Parsha of a full sensory art installation. But not just a piece of art, but art that is the heart of the community. A place that will be the living and breathing space, where everything happens. Where the sacrifices are made. Where God is felt and is resting. Where one goes for holidays, for times of joy and times of pain. As we read in last week's Parsha, it is a place that was built by everyone. People gave what they were able to give – be that thread or gems. People helped in whatever ways that they were able – be that weaving, donating, or  heaving lifting. This was the centre of the Children of Israel in their time in the desert. It was not only for them – but it was where God rested. God entered and filled the entire space. Exodus 40:35וַיְכַ֥ס הֶעָנָ֖ן אֶת־אֹ֣הֶל מוֹעֵ֑ד וּכְב֣וֹד ה מָלֵ֖א אֶת־הַמִּשְׁכָּֽן׃ The cloud covered the Tent of Meeting, and the Presence of the LORD filled the Tabernacle.This was the location where critical information was disseminated.  Where the Children of Israel knew they were going to be travelling. It was where the Children of Israel knew that God dwelt amongst them. Seeing the cloud or the fire, knowing that God was there, in a very tangible way. What would it mean today to know and 'see' God in a tangible way? How can we create our holy community spaces into interactive art? Full of sound, smell, sight. How can we spread that feeling, even when we are unable to be in a building together? Or that there are and always have been people in our community that will be unable to attend in person? The shul (synagogue) is known as a mikdash me'at, a small tabernacle. So what can we do, to really make our spaces into a small tabernacle? A place where people are able to feel God? A place where they are able to see one another's handy work? A place where all are able to contribute based on their abilities (which means that all are able to contribute something)? A place that can be described in such detail, that even when one is unable to be physically present, one can imagine being there and feel like they too are part? I am also struck by the end of the Parsha (Exodus 40:38)כִּי֩ עֲנַ֨ן הֹ' עַֽל־הַמִּשְׁכָּן֙ יוֹמָ֔ם וְאֵ֕שׁ תִּהְיֶ֥ה לַ֖יְלָה בּ֑וֹ לְעֵינֵ֥י כל־בֵּֽית־יִשְׂרָאֵ֖ל בְּכל־מַסְעֵיהֶֽם׃ For over the Tabernacle a cloud of the LORD rested by day, and fire would appear in it, in the view of all the house of Israel throughout their journeys.We start the book of Shmot with the Children of Israel as slaves in Egypt, scared that God has forgotten them. That God has left them to all die a horrible death, as individuals and as a nation. And we end with God being there – always, either by a cloud or by fire. How important it is to show to others who have felt abandoned, that they are not anymore. That there is someone out there looking out for them, paying attention to them, being present with a light on – waiting for them, even if/when they are not able to enter.  

AMEN Institute Happenings
Jewish Artist of the Week Next Week:
Next week we will be featuring Tobi Kahn, who studied Parshat Vayikra with Rabbi Ysoscher Katz.

Creative Articulation Featuring Tina Marcus and Rabbi Eryn London

On Sunday February 27th, we heard from Tina Marcus and Rabbi Eryn London about their studies on Parashat Pekudei. It was an exhilarating conversation that explored the fundamental role of community in Judaism and the central value of co-operation in a modern instrumentalizing society. Here is the link to the articulation: https://fb.watch/bvrOfC8tF0/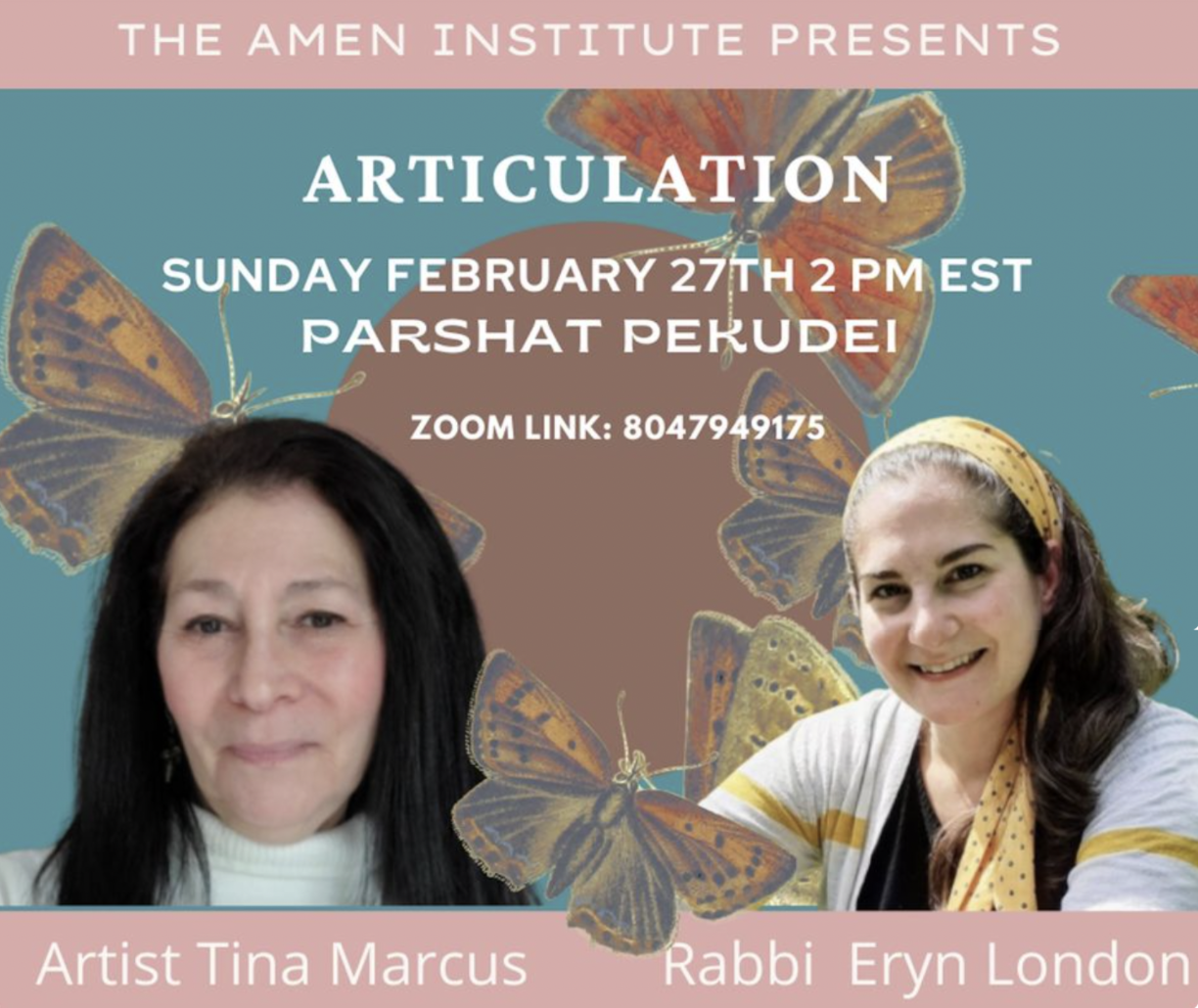 Yetzirah Circles
The Yetzirah Circle is a monthly gathering where we open up an online zoom room for Jewish artists to work on their crafts in a shared virtual space. Join us on March 22nd at 7 pm EST to meet kindred spirits and to partake in this Amen activity. Here's the link: https://us02web.zoom.us/j/8047949175
 
Heal Over Head Retreat:
We hosted a Jewish experiential weekend of healing, growth, introspection and creativity for young adults. Participants ventured to a paradisiacal estate in the scenic backdrop of the Pocono Mountains to gain access to deep healing, clarity and self expression through workshops led by skilled facilitators. Stay tuned for updates on when our next retreat will be.
   
 THE AMEN INSTITUTE