THE AMEN INSTITUTE 
July 3 – 9 2022
ד'- י תמוז תשפ״ב
Parshat Chukat חוקת
          Miriam                                                                                                                                   

Piece Description:
"Miriam" was created in response to conversations I had with Rabbi Mike Rothbaum about Parshat Chukat. While celebrating Miriam, this piece notes that her contributions to the community were not recognized until after her death. "Miriam" speaks to larger ideas about female leadership and the perceived value of female labor.

Discussion Questions:
1. How would you describe our main subject. What is she in the midst of doing? What do you notice about her demeanor? What are the images that can be found on her cloak? What would be the one adjective you would use to describe your perception of her?
 
2. How is the use of color employed in this piece? How do the different blues interact with one another? What effect do the blues have penetrating through the grayscale of the rest of the image? How is the grayscale in conversation with the blues?

3. Having spent significant time in Tuscon Arizona, the cactus is often an important subject in Sam Fein's art. Three cacti are prominently featured in this work surrounding our heroine, Miriam. What function do they serve in our narrative? What associations do you have to Cacti? If you would replace the cacti to utilize a symbol native to your own locality, what would it be? 

4.  Sam describes that Miriam's contributions were only recognized by the camp after her passing. What are the things, people or services in your own life that go unnoticed but their presence is strongly felt in the void that they leave behind when they no longer are present? Can you recall one time that you felt the absence of something when it was gone? How do you want to combat this tendency?

Artist Bio: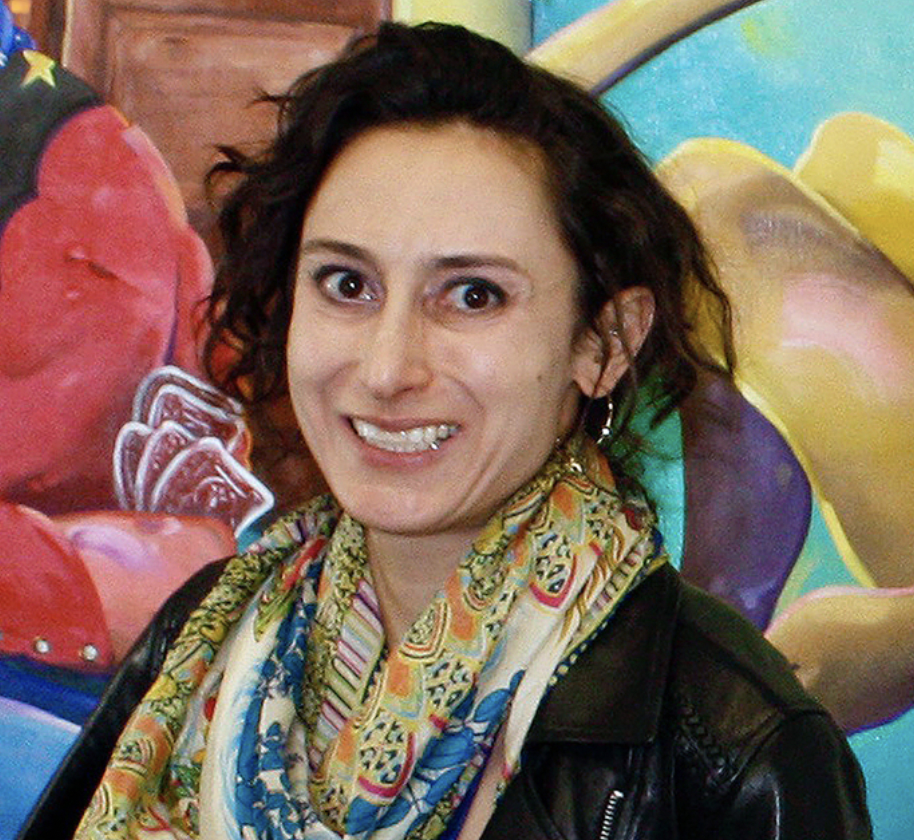 Sam Fein is a Boston-based artist originally from Tucson, Arizona. Her artwork has been included in exhibitions at the American Visionary Art Museum, Smack Mellon, and Hillyer Art Space. Fein has participated in artist residencies at Vermont Studio Center, MASS MoCA, and James Rosenquist AIR at North Dakota State University. 

Fein received her B.A. from Sarah Lawrence College and M.F.A. from the Maryland Institute College of Art (MICA). Prior to attending graduate school, she spent a year as a Fulbright Scholar in the Philippines.

Learn more about the artist on her website: https://www.samfein.com

Artist-Rabbi Chevrutah Pair:
Mike Rothbaum
Atlanta, Georgia



Rabbi Bio:  Rabbi Michael Rothbaum is the former spiritual leader of Congregation Beth Elohim in Acton, Mass. He serves on the advisory boards of the Jewish Alliance of Law and Social Action (JALSA) and the New England Jewish Labor Committee, and is a member of T'ruah: The Rabbinic Call for Human Rights. He lives in Acton with his husband, Yiddish singer Anthony Russell.  

Sermon of Rabbi: 

Few substances are as precious in Torah as water. Of course, for a text
that takes place in the arid landscape of the Middle East, it's hardly a
surprise. But over the course of the five books, water seems to take on an
almost mystical quality. It is treasured and desired, it is scarce and
valuable, it engenders life and — occasionally — deals death.

It is death that we consider this week, in parashat Chukat. The death of
Moses' dream to see the Promised Land, when he defies God and strikes a
water-giving stone — twice — rather than speak to it.

In addition to metaphorical death, Chukat brings the physical death of
Miriam the prophet, sister to Aaron and Moses — Miriam, a woman
intimately connected to water through the course of her entire existence.
Her name is of the water. There are different understandings of its
etymology, but "Miriam" is possibly related to mar-yam. The "bitterness of
the Sea." The oldest of Yocheved and Amram's children, Miriam is born at
the beginning of Pharaoh's bitter persecution orders, birthed on the shores
of the Nile River.

It is in that very Nile where, in the first chapter of Exodus, in the first
chapter of Miriam's story, a mad and wicked Pharaoh wants all Hebrew
infant boys drowned.

The Talmud teaches that, given Pharaoh's decree, Amram decides that the
Hebrews should no longer have any babies. And — further — that they
should no longer even be married. Miriam challenges her father, arguing passionately, "Your decree is harsher than Pharaoh's! Pharaoh's decree kills the boys. Yours kills the girls as well!" (Sotah 12a)

Persuaded by their daughter Miriam, Amram and Yocheved birth another
son. It is only because of Miriam's strength of will and wise words that he
is born.

It is not the last time that she ensures her brother Moses' survival.
Famously, Moses' mother endures the excruciating pain of sending Moses
away as a child refugee in order to save him from Pharaoh's murder
machine. And as Yocheved puts her son in history's most famous basket,
it is Miriam who watches him to ensure his safety — walking along the
banks of the Nile, the water that threatened to be a place of the Hebrews'
death, now a source of life.

And when the Israelites escape Egyptian bondage — exchanging the death
water of the Nile to the birth waters of the Red Sea — it is Miriam again at
the waterside, leading the women in song.

And as the Israelites travel, they are sustained by Be'er Miryam, Miriam's
Well — a mystical rock that accompanied the Jewish people on their
wanderings, providing fresh water in the desert wasteland.

But we lose Miriam this week. And, as if on cue, Moses loses himself.
Shimu-na ha-morim! "Listen up, you rebels!," Moses shouts at the kvetchy Israelites. "Should we get water out of this rock for you??" (Numbers 20:10)
"Moses called them ha-morim, 'rebels,'" says a Midrash.  "Or, as in the
Greek, 'morons.'"

We may ask: what's happened to Moses? He's famously punished for
this outburst, of course, and prohibited from entering the Promised Land.
The reason for the severity of the punishment? Depends who you ask.
Rashi says it's because he didn't trust God. The Rambam says his sin
was yelling at the people and calling them names — just for wanting
water.

It's odd, though, for Moses to act so put-upon, saying, "should we get you
water?" Who's the "we?" After all, with one exception in the book of
Exodus, he seemingly hasn't had to do any water-fetching.

It's been Miriam. All these years.

And now, now that she's gone, Moses is at a loss.

Judging Moses favorably, we could say that the mention of water triggers a grief response over Miriam, his outburst a paroxysm of grief. But it has been, sadly, all too common for men to take for granted the
contributions of woman, as long as they didn't have to be troubled with
them. Until, of course, it's too late.

As long as Miriam lived, she was Miriam the life-giver, Miriam the savior,
Miriam the sustainer. Without Miriam, there is no Moses. And maybe you
and I work in Egypt instead of America, still slaves to Pharaoh.

And, further — as long as we're talking about Pharaohs — who are the
Jews who have been counted to fight against the Pharaohs of each age?
Is it not, invariably, women? Emma Lazarus and Emma Goldman? Clara
Lemlich and Rose Schneiderman and Hannah Szenesh?

And, in our day, who stands by the Nile to safeguard the refugee kids, who
demands justice for today's baby Moses? In every Jewish social justice
organization, we have found women. Ruth Messinger at AJWS, Stosh
Cotler and Susan Lubeck at Bend the Arc, Rabbis Jill Jacobs and Rachel
Kahn-Troster and Salem Pearce at T'ruah, Rabbi Rachel Grant-Meyer at
the Hebrew Immigrant Aid Society.

All of them Miriams, all of them knee-deep in the water, all of them refusing
to let hope drown in despair, reaching a hand into the river, rescuing our
children — all our children — rescuing principle and integrity from the moral
quagmire of this moment.

Let us not be Moses, forgetting to remember who brought us here. Let us
look to Miriam, even now, as the water rises. In a time of agony and
heartbreak and unspeakable sadness, let us be lifted in our hearts and do
the work that needs doing. Let us learn from all the Miriams in our world, in
our community, joining together to march together.
Raising up life from the living waters.

AMEN Institute Happenings
Next Jewish Artist of the Week:
Next week, we will be featuring Tzuriel Sdomi, who studied Parshat Balak with
Rabbi Ronnie Cahana. Stay updated on the details of this articulation by following our facebook page: https://www.facebook.com/AmenInstitute

Creative Articulation Featuring Sam Fein and Rabbi Mike Rothbaum
On Wednesday July 7th at 6 pm ET, Sam Fein and Rabbi Mike Rothbaum will present about those that are overlooked and underappreciated. How can we build our consciousness to not forget the contribution of all those indispensable to the fabric of our society.? Find out at this special articulation presentation: https://fb.me/e/20XCTseYm




Yetzirah Circles
The Yetzirah Circle is a monthly gathering where we open up an online zoom room for Jewish artists to work on their crafts in a shared virtual space. Join us next year to meet kindred spirits and to partake in this Amen activity. 

Heal Over Head Retreat:
We hosted a Jewish experiential weekend of healing, growth, introspection and creativity for young adults. Participants ventured to a paradisiacal estate in the scenic backdrop of the Pocono Mountains to gain access to deep healing, clarity and self expression through workshops led by skilled facilitators. Stay tuned for updates on when our next retreat will be.
   
 THE AMEN INSTITUTE